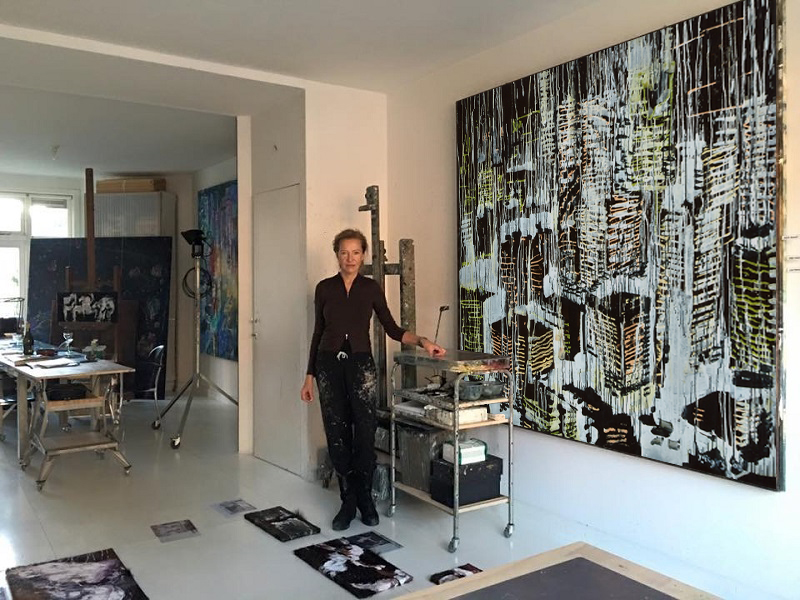 | | | |
| --- | --- | --- |
| | Atelier Amsterdam, 2016 | |


Janneke A.E.M. Viegers (Janneke, Adriana Engelina Maria Viegers)
Born: Nijmegen, the Netherlands, 09-01-1952

Dutch Visual Artist; lives and works in Amsterdam. Studied at the Academy for Visual Arts in Arnhem: First degree Art and Art History, graduated in 1976. At this Academy she taught for 5 years, as well as at the Rietveld Academy in Amsterdam. Viegers makes large oil paintings of Interiors and World cities in aerial perspectives. These last ones are to be found in Dutch embassies over the world. Besides these, she makes small city views, many portraits and animations. Janneke exhibits since 1980, among them are a number of solo expositions. The works can be found in many public and private collections, including the First and Second Chamber of the Dutch Government, The Hague; the Euro-Parliament, Brussels; the Stedelijk Museum, Amsterdam; the Amsterdam Historical Museum and the Museum for Modern Art in Arnhem. The Nijmegen municipality purchased for the City Archives a diptych of the city in drone view. In 2018 the Amsterdam Museum showed the painting Schiphol from its collection during the exhibition 'De mooiste stad' through the mayors eyes.




You are welcome in the atelier. Please call or e-mail for a visit.
2018, PEACE AND RECONCILIATION, St. Laurenskerk, Rotterdam
2018, DE MOOISTE STAD, exhibition at the Amsterdam Museum
Copyright © 2019, Janneke Viegers
No content of this website may be published elsewhere without strict permission from the author.
Webdesign by PC Apotheek